HOOK
After a very successful launch of set Ice these holds represent a very logical next step regarding dry tooling holds with the same technical characteristics.
Because dry tooling is not just pulling we decided to make a set of non-classic but as much as possible different and interesting shapes which offer and enforce mostly (very) tricky hooking possibilities.
As a highlight of this set there are two holds which can be used individually but in combination they form a great crack of any kind.
10 holds, 13 hooking possibilities plus a crack.



ICE
Our first set of holds designed (in the year 2002) specially for dry tooling.
10 holds, 18 hooking possibilities - from micro hook to large crack.


Holds designed specially for dry tooling.

Made from extra strong material.

Suitable for any wall angle.

Easy mounting with usual M10 (or even M8) allen bolts as for all other holds.

No texture - to prevent hand grasping and to provide more precise hooking feeling.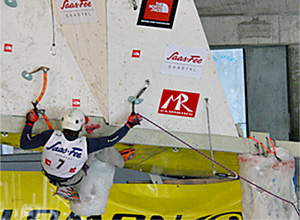 Dry tooling sections of all climbing routes during Ice World Championship 2004 and 2005 in Saas-Fee have been set exclusively with these holds.